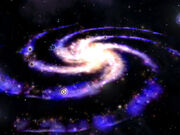 Maxis announced on the 13th of October, at the same time that Creepy and Cute was announced, that Spore will be getting its first full expansion.
Current Knowledge
Edit
At the time they gave no indictaion of what it is called or what will be in it except for the following extract:
Gamers will experience deeper Space stage gameplay with an expansion pack scheduled for release in spring 2009. For the first time, players' space faring creatures will be able to beam down from their spaceships to explore new planets and earn rewards for completing challenging missions. A new Adventure Creator will allow players to build and share online their own custom missions, providing almost endless gameplay possibilities.
Now Spore: Galactic Adventure has appeared on numerous sites which sell computer games. These include the heavy weights Gamestops and Amazon. However there is a dispute over the exact date of release with Amazon shipping on the 31st while Gamestop is shipping on the 17th. All Games is also shipping spore on the 31st.
Sites with Spore Galactic Adventure
Edit
US release on the 17th of March
EB games ($29.99)
Gamestops ($29.99)
totheGame
GameFaq
US release on the 31st of March
Amazon ($29.99)
All Games
GameWarZone ($29.99)
US release on the 10th of March
SuperDuperClub (US) ($26.99)
US release unknown
NewEgg ($27.99)

UK release on the 20th of March
Play.com (UK) (£17.99)
Smyths (Ireland) ) (£29.99)
totheGame
South Africa release on the 20th of March
Take 2